ESSEX UPRIGHT EUP108C
CLASSIC STUDIO
Dimensions:
Height: 108 cm
Width: 147 cm
Weight: 209 kg
Depth: 55 cm
The continental styling of this upright piano is at home in any décor. The contemporary design offers distinctive and stylish elegance at an affordable price.
Share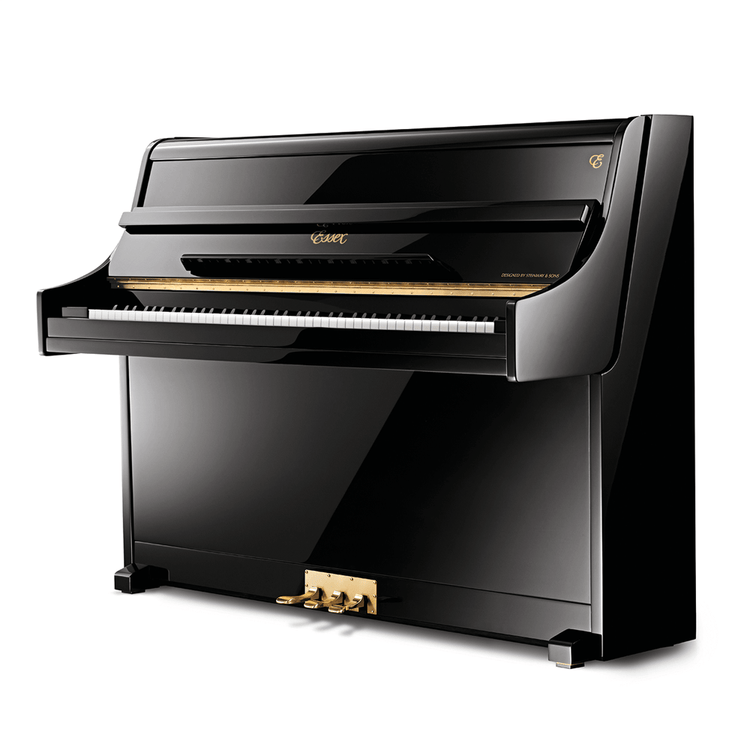 DESCRIPTION
SPECIFICATIONS
WHAT COMES WITH YOUR PURCHASE
FEATURES AND BENEFITS
Designed by STEINWAY & SONS in collaboration with renowned furniture designer William Faber, the Essex has been created as a tribute to the idea that beautiful piano styles and finishes can and should be possible in every price range. With elegant traditional styling and museum-quality finishes, Essex will be a stunning addition to your home. And it is available in an array of models, sizes, and veneers to fit every décor and every lifestyle.
The Essex incorporates the latest design and engineering enhancements from Steinway's dedicated research and development team. By utilizing specially engineered materials, large-scale production techniques, and carefully selected manufacturing environments, the Essex is able to deliver a level of musical performance previously unattainable in its price range.
With the Essex piano, you get more than the best possible value for your money. You also enjoy complete investment assurance, as each Essex piano is backed by STEINWAY & SONS and serviced by Steinway-trained technicians. Your purchase is also backed by the Steinway Promise: If you decide to trade-in your Essex piano for a new Steinway grand piano at any time within ten years, you will receive a trade-in credit equal to your original purchase price.
The Steinway-designed soundboard is tapered, rather than uniformly thick, to vibrate more freely and provide more tonal volume. Essex pianos have a Steinway-designed, all wood (no plastic) action for proven durability and heightened responsiveness and control. In addition, all Essex pianos feature a Steinway-designed pinblock, strings, plate, backposts/braces, and bridges, as well as many Steinway-specified parts and manufacture procedures. As a result, the Essex is, quite simply, the best piano available in its price range today.
THE STEINWAY PROMISE
When you purchase an Essex, you may trade in the instrument within ten years of the date of purchase to receive 100% of the original purchase price in trade toward a new STEINWAY grand.
BACKFRAME
Staggered spruce backposts (5). Total CSA: 223 cm2 (34.5 in2). Thickness of post: 4.5 cm. Width of post: 10 cm.
PINBLOCK
Laminated bi-directional Maple. Thickness: 30 mm.
SOUNDBOARD
Solid Spruce. Linear taper. Vibrating area: 1.16 m2 (1,794 in2)
RIBS
Ribs notched into inner rim (no floating ribs). Ribs made of spruce and staggered/graduated. Number of ribs: 10
BRIDGES
Vertically laminated maple base with solid maple cap.
SCALE
Designed by Steinway. 17,505 kg (38,512 lb) tension.
TUNING PINS
Carbon steel, nickel coating.
HAMMERS
Specified by Steinway. Weight of topfelt: 6 kg (13 lb).
ACTION
All wood (no plastic) for all moving parts. Aluminum action rails.
KEYS
Steinway design. Spruce.
PEDALS
Brass. Middle pedal is for muffler.
OTHERS
All wood Back construction (no MDF except in cabinet parts). Solid filler blocks in backframe (near top). Backposts are large and staggered. Bench: Matching cushioned bench.
CASTERS
Has glides instead of casters.
MATCHING BENCH
HEATER 48-15A 240V BS1
5 YEARS LIMITED WARRANTY
10 YEARS STEINWAY PROMISE
COMPLIMENTARY TUNING SERVICE
Within Metro Manila, we offer complimentary delivery
Outside Metro Manila, please inquire with our sales consultant to be provided an accurate quotation.