BOSTON GRAND GP156
PERFORMANCE EDITION II
Dimensions: 

Width: 151 cm
Weight: 311 kg
Length: 156 cm
The smallest Boston grand piano offers the most enjoyable playing experience, thanks not least to the wide-tail design, which allows a full, voluminous sound.
Share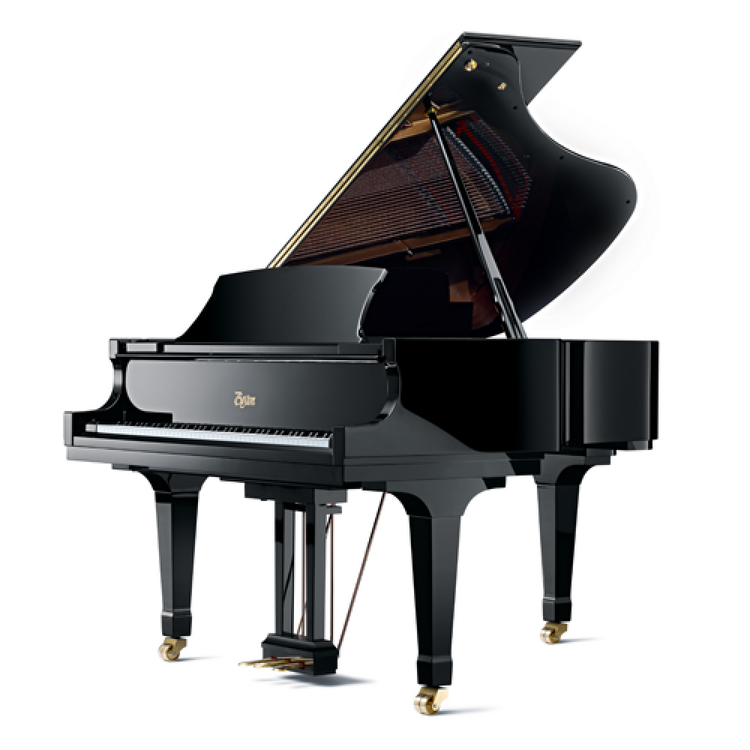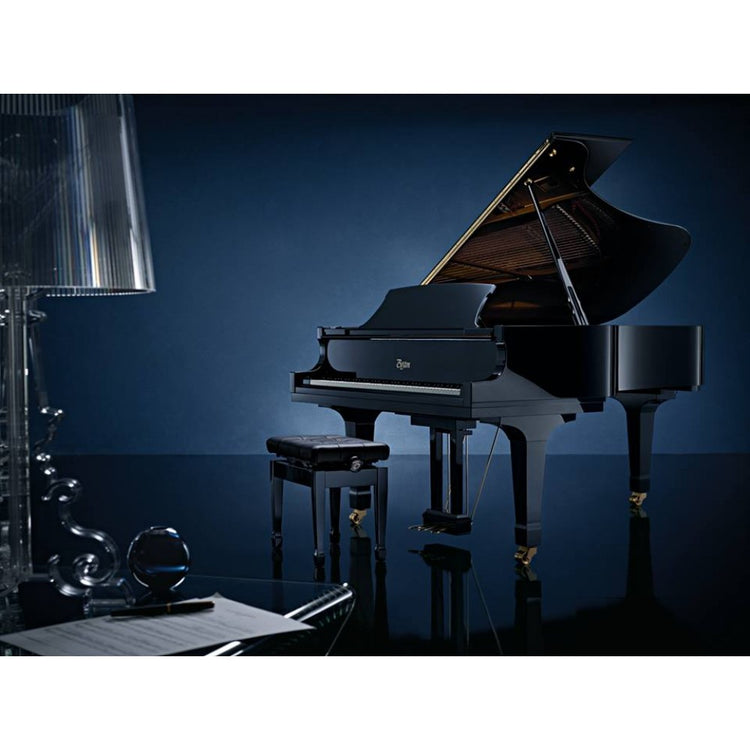 DESCRIPTION
SPECIFICATIONS
WHAT COMES WITH YOUR PURCHASE
NEW PERFORMANCE EDITION II
Introducing the new Performance Edition II by Boston, featuring a Kewazinga Bubinga veneer on the inside rim (ebony pianos only), rose-gold plate color, black felts, and a rescaled bass and treble strings.
The Boston PE II builds on the best-in-class features that Boston is known for, including a Hard Rock Maple inner rim and Octagrip™️ pinblock. The smallest Boston grand by size at 5' 1½" (156cm), there is nothing small about the sound of GP-156 Performance Edition, which benefits from a wide-tail design.
FEATURES AND BENEFITS
The Boston piano features a duplex scale, adapted from the famous STEINWAY & SONS design, which adds a harmonic richness that simply can't be duplicated by other instruments in a similar price range.
In comparison to other pianos, the Boston has lower string tension. This reduced string tension, along with a tapered soundboard, creates longer sustain, and a more singing quality in the tone (as well as longer piano life). A wealth of other engineering enhancements, including optimal placement of ribs, braces, and bridges, also contribute to the Boston's superior tone and greater stability.
The Boston grand piano offers a larger soundboard in comparison to other pianos of the same length, due to its innovative "wide tail" design. This wider construction of the case means that a 5' 10" Boston grand has the same soundboard area as a typical 6' 2" grand piano, creating the power, richness, and feel of playing a much larger piano.
Each Boston piano soundboard is crafted of Sitka spruce, long proven to be the most resonant material available. Boston soundboards are solid (not laminated) and precisely tapered, which allows them to vibrate more freely. In conjunction with a number of special technologies — unique patents of STEINWAY & SONS — the result is a powerful, sustained tone.
THE STEINWAY PROMISE
When you purchase a Boston, you may trade in the instrument within ten years of the date of purchase to receive 100% of the original purchase price in trade toward a new STEINWAY grand.
RIM
Hard Rock Maple inner rim -- this is the foundation of the Boston's tone. Besides providing superior structural integrity to the piano, it enhances tone by being a rock hard foundation for the soundboard. A Maple rim is found only in the finest pianos. Continuous bent rim. 11 outer rim laminations, 17 inner rim laminations. 23 mm (⅞"") outer rim width, 38mm (1½"") inner rim width.
BRACES
Radiating braces solidify the piano's structure. Their triangular layout provides more support than parallel designs. This rigid system improves tuning stability and soundboard crown retention, and lengthens piano life. 2 braces + 1 treble.
PINBLOCK
Octagrip pinblock made of 11 layers of Hard Rock Maple — glued in different grain angles of 60 degrees — affording the tuning pins greater stability under tension and enabling the piano to stay in tune longer.
SOUNDBOARD
Close and straight-grained solid (not laminated) Sitka Spruce. Minimum 3 annual growth rings per cm (minimum 8 per inch). Tapered from treble to bass, allowing a greater freedom of movement in the bass, and stiffness in the treble, thereby creating a richer and more lasting tonal response. Tapered from 8 mm to 6 mm. Vibrating area: 1.09 m2 (1,756 in2)
RIBS
Made from durable spruce to assure strong and constant support of the strings bearing down on the soundboard. Ribs are fully let-in to the inner rim to support the important soundboard crown and prevent the piano from losing its tone. Number of ribs: 10
BRIDGES
Treble: Vertically laminated (alternating maple and mahogany) with a solid maple cap, curved to fit the crown of the soundboard. Bass: Solid maple mounted to cantilevered base.
SCALE
Overstrung; combination of agraffe, with front and rear duplex. Rescaled bass and treble for lower tension scale for increased sustain, better tone clarity, and deeper clearer bass. 17,565 kg (38,684 lb) tension.
PLATE
Cast from grey iron, bronze-painted and lacquered. Vacuum cast.
HAMMERS
Premium wool topfelt over premium wool underfelt. Weight of topfelt: 9.5 kg (20.9 lb). Compression-wired to retain permanent shape. Mahogany moldings. Tapered hornbeam hammershanks. Computer-designed pear-shaped hammers result in superior tone, increased durability and greater voicing ability.
ACTION
Solid maple and hornbeam(all wood, no plastic) for all moving parts. Steinway profile-shaped flanges, extruded aluminum action rails for increased stability and less frequent regulation. Steinway action geometry provides superior touch.
KEYS
Genuine spruce, individually balanced and weighted. Synthetic ivory and ebony key covers. New synthetic ebony has ebony-like surface texture and appearance that absorbs perspiration from the fingers. The fine synthetic ivory of the white keys has the same properties of friction, porosity, conductivity, and appearance as ivory.
PEDALS
Heavy solid brass castings. Soft, full sostenuto and damper (sustaining).
MATCHING BENCH
HEATER 48-15A 240V BS1
5 YEARS LIMITED WARRANTY
10 YEARS STEINWAY PROMISE
COMPLIMENTARY TUNING SERVICE
Within Metro Manila, we offer complimentary delivery Outside Metro Manila, please inquire with our sales consultant to be provided an accurate quotation.